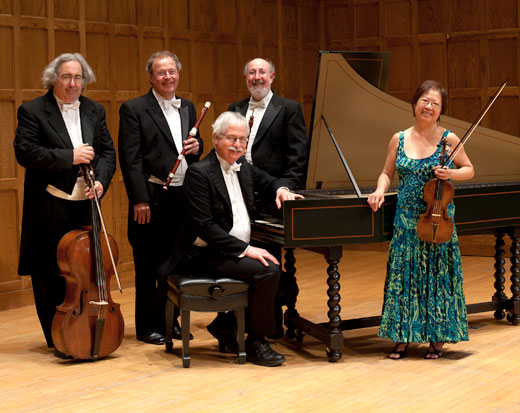 Photo: Jill LeVine
What does an ensemble do when its repertoire stopped expanding 250 years ago?

The AULOS Ensemble, like other early music groups, faces this dilemma, and has faced it longer than most.

AULOS'

answer has been to constantly re-invent itself—not by changing personnel, as its elite membership has remained intact for the last 15 years—but by constantly exploring new projects, embracing an ever-widening group of guest artists, and forging new recording alliances.

Handel's serenata Acis and Galatea received the AULOS treatment in the 2006-7 season, unconducted with 8 instrumentalists and 5 singers, in a performance that the New York Times called "an utter delight". His Water Music in a version using 17 to 25 players has become a favorite with presenters and audiences alike. Where appropriate, AULOS has created residencies in which the group and its guests teach and coach young professionals and then join them in these concerts. Repertoire that has been presented as a result of these collaborations includes the Complete Brandenburg Concerti, and for the first time in 2012, the St. John Passion. 15 years after recording its Christmas hit CD, A Baroque Christmas from the Metropolitan Museum of Art with Julianne Baird, AULOS and Ms. Baird have collaborated on In Dulci Jubilo for Centaur Records, released to critical acclaim in 2006. It was the first in a series of new recordings for Centaur—next came another AULOS specialty, suites from Rameau's operas Les Indes Galantes and Fêtes d'Hébé, released in 2008. These interpretations, the first recorded versions for chamber ensemble, stem from AULOS' constant exploration of the literature and the freedom and confidence that comes from many years of experience in arranging and adapting 18th-century sources to create 21st-century renditions.

"The Bach Family Album" continues the AULOS tradition of mixing innovative transcriptions with well-loved chamber music masterpieces. It was described as "enthralling" by The American Record Guide. Most recently, AULOS collaborated with the early music superstar Dominique Labelle in "The Handel Album", the 5th installment in the Centaur series, and looks forward to the release of "The Couperin Album" in Fall, 2015. The group has created its own YouTube channel where videos and excerpts from the recent recordings can be viewed.